Pakistan squandered a great opportunity to go 1-0 up in the two match T20 series at Hambantota. They restricted Sri Lanka to a very achievable 132 but only had themselves to blame for blowing away the chance. The hosts will now go into the 2nd T20 game high on confidence, knowing fully well that they cannot lose the series from here. Pakistan it is then who have to make all the major moves if they are to comeback in the series. There were various counts on which Pakistan faltered in Friday's game, and cannot repeat the same mistakes again on Sunday.
Their batting was atrocious chasing a small target. All Pakistan had to do was bat sensibly. Instead, their skipper and number three played lose shots off back to back deliveries to put the team on the back foot right away. It was Mohammad Hafeez's first match as skipper and it was a disappointing start for sure. He will have to make amends in the second game, and prove that he is not known as the Professor for nothing. In fact, the whole of the batting line up will have a point to prove following their debacle in the previous game. The likes of Shoaib Malik, Umar Akmal and Shahid Afridi need to rise to the occasion. They have the experience, and must make it count.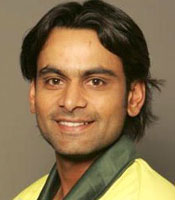 While their bowling was rather prudent in the opening T20, there is scope for improvement there as well. After all, they had the Lankans in big trouble at 89 for 7 but let them escape to 132. Spinners bowled pretty well, however the pacerscouldn't maintain the pressure in the end overs. Umar Gul, in particular, was out of sorts. Possibly, the raid on his house a couple of days before the game was still playing on his mind, as he was taken to the cleaners.
Even though the Lankans emerged victorious in the opening encounter, they still have problems of their own. Their batting for most part was disappointing and only a couple of cameos rescued them towards the end. The experienced top and middle order will need to fire for the lower order cannot always rescue them. They still emerged as the team with more positives. Thisara Perera played an amazing knock with the bat while Nuwan Kulasekara and Angelo Mathews came up with two of their best performances in recent times. Lanka's fielding was also way sharper compared to Pakistan. If they can continue in the same vein on Sunday as well, Pakistan will find it difficult to overcome the Lanka challenge once again.
- By A Cricket Analyst