If all goes according to plan, the Test series against England would be Mark Boucher's goodbye to international cricket after a 15-year long successful career. In the meantime though, the veteran South African cricketer has also stated that he would be happy to carry on till the tour of Australia, which begins in November, if the South African team management requires his services. Like always, Boucher has made a total team-man's gesture by revealing that he is available for the tough tour if needed. And Cricket South Africa must utilise his talent till he is available.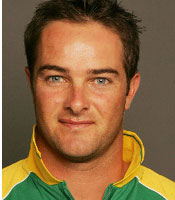 In spite of Australia's slide in the last couple of years, the tour Down Under remains the toughest in international cricket. As such, it would be hazardous for South Africa to throw a newbie straightaway into the deep end, as the replacement to the experienced Boucher. They would do well to retain him for the big series; a younger wicket-keeper could be trained under him both in England and Australia, and the experience would only benefit the latter in the times to come, when he takes up the wicket-keeping duties on a permanent basis.
Boucher brings a lot to the side other than his experience as a keeper, which would be of great assistance to Graeme Smith when he takes on the Aussies. He is regarded as a shrewd thinker of the game, and having had better experience of playing in Australia, he can definitely play a significant part in plotting down Australia's failure. As a batsman alone, Boucher is a fighter. He has come up with plenty of memorable knocks for the side over the course of a decade and a half, some which have saved games for South Africa and others which have taken to Proteas to victory. True, his reflexes have slowed down with time. However, he can make up for it with his vast experience in Australia.
Australia-South Africa clashes are always high-pressure games, and both teams would need their best and most experienced players, who can handle the high-voltage atmosphere of such matches. Boucher is definitely one of them. If he indeed gets selected for the Aussie tour, Boucher will have a great opportunity to end his career on a significant high. And if he can contribute in a series win for South Africa over Australia, nothing better.
There's plenty of motivation for Boucher if he gets a chance to end his international career in Australia. If nothing else, that should be reason enough for the South African selectors to consider him one last time, in whites.
--By A Cricket Analyst