Pakistan disappointed big time in the one-day series against Sri Lanka. And one of the reasons for their failure was the inability of their seniormost batsman Younis Khan to score runs. Of course Shahid Afridi has been part of the Pakistan squad for longer, but he is not rated as a pure batsman. Khan, on the other hand, has been among the team's most consistent batsmen in the last decade in both formats of the game.
His record speaks for itself – over 6000 runs in Tests as well as ODIs at averages of 52 and 32 respectively. That, unfortunately, hasn't been the case in recent times, especially in one-dayers. Khan managed only 10 runs in three knocks in Sri Lanka, and even had to be dropped for the final match. The severity of the situation can be judged by the fact that even in the Asia Cup he registered only 67 runs in four games.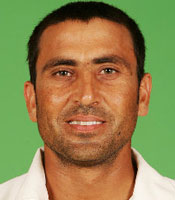 Not surprisingly, Pakistan's chief selector Iqbal Qasim has said that he would discuss Khan's ODI future with the reputed cricketer. The time is right for the same. Khan is 34 now, and there are slim chances of him being around when the 2015 World Cup begins. As such, it would only be fair that he steps aside and gives the youngsters a chance to stake a claim for his spot.
Khan's absence from the ODI squad would be a jolt for Pakistan for sure, since he has occupied the crucial number three slot and done incredibly well over the last decade. Still, it would be a progressive move since Khan has been failing to do the job expected of him in recent times. As a senior, Khan's responsibility is to play the role of anchorman, which he hasn't been doing – a clear indication thatthe time has come for him to step aside.
Another key rationale why Younis Khan should quit ODIs is because the team needs him a lot more in the five-day version of the game. With so much cricket being played these days, most cricketers are opting for one format of the game over others – England's Kevin Pietersen and Sri Lanka's Lasith Malinga are recent examples of the same. While Pietersen has quit the shorter formats citing excessive burden, Malinga has decided not to play Test cricket to elongate his injury-hit career.
PCB must handle Younis Khan's case with care. Often cricketers who have served the country with distinction are dumped unceremoniously. The fact that Qasim has invited Khan for discussions is a step in the right direction. Khan must be given a chance to walk away amicably from ODIs and allowed to totally concentrate on five-day matches.
--By A Cricket Analyst