England have asked the in-form Alastair Cook to stay back for the Twenty20 Series against Pakistan. Cook gets his opportunity as Ravi Bopara is having a stiff back. The England ODI Captain will be the injury cover for Bopara.

England do not have a spare batsman in their side if Ravi Bopara doesn't recover from his back problem by Thursday morning. But now with Cook available, England will breathe easy for the 3 T20Is. Bopara had missed the fourth and final match because of the back problem.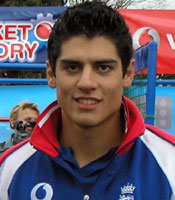 Alastair Cook is in wonderful touch scoring two back-to-back centuries followed up by an 80 in the 4-ODI Series against Pakistan. The first two T20Is will be played at Dubai on the 23rd and 25th while the third and final match will be played on 27th at Abu Dhabi.