Former Pakistan Coach Geoff Lawson has joined the list of former cricketers asking for Sachin Tendulkar to retire from ODI Cricket. The former Australian pacer says that Tendulkar should not wait too long from announcing his retirement from One Day Internationals.

Geoff Lawson says that in Test Cricket, Sachin's form has looked good and that he is surprised as to why the latter is still playing in ODIs. Lawson questions whether Tendulkar is really putting his heart and mind in the game when playing in the limited overs matches.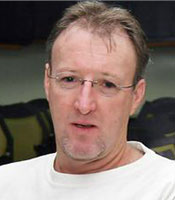 The former Pakistan Coach also asks whether Tendulkar is playing for his 100th century or playing for his country. Lawson says that Tendulkar should these questions to himself and introspect. However, Lawson feels that a great player like Sachin Tendulkar should be allowed to take the decision on his own regarding his retirement.