Surrey and England Lions batsman has Tom Maynard died aged 23, to send shockwaves in England cricket. Here's a look at five other cricketers who died much before they should have.
Runako Morton: The West Indian was only 33 when he died on March 4 this year in a car crash. Morton played 15 Tests and 56 ODIs during a career that promised a lot but delivered little. While Morton ended with a decent average of 33 in ODIs, he struggled in the five-day version, averaging a mere 22. Morton's troubles though had a lot more to do with his off-field behaviour. In spite of his obvious talent, he seemed to lack the right attitude. He was selected for the 2002 Champions Trophy, but pulled out after lying of his grandfather's death. He was constantly in and out of the side and impressed in phases. February 2010 was the last time we saw him in Windies colours. Life did not give him another chance.
Ben Hollioake: The youngster from England, belonging to the same county club as Maynard, made his international debut when he was only 20, but died before he turned 25, when his Porsche car crashed into a brick wall. Like his brother Adam, Hollioake hadn't done exceptionally well in his international career. However, he had age on his side and a decent chance of adding to his 2 Tests and 20 ODIs, during which he averaged a meagre 11 and 20 respectively. In Hollioake, England lost a young cricketer who could have done so much more had he only been alive.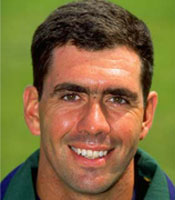 Hansie Cronje: This is among cricket's saddest tales. For a decade, Cronje was among world cricket's most respected players and captain. In a matter of minutes, he fell from grace, a plunge that shook the very foundation of the very game. In 2000, Cronje admitted to match-fixing; in 2002, he died when a cargo plane he was flying in crashed into a mountain range. He was only 32, but the fact that he was around international cricket for so long almost belied this reality. Cronje had an excellent record as skipper and player in both formats of the game. Sadly, all that counts for nothing now.
Raman Lamba: He had played his last game for India almost a decade ago, but it was the manner in which Lamba died that was shocking. He was hit flush on the head while fielding without a helmet at forward short leg. Though 38 at the time of his passing away, Lamba desired to play domestic cricket for another few years. However, fate has something else in store for him. Lamba did have his time in the sun, registering an ODI hundred against Australia being the highlight.
Manjural Islam Rana: The slow left-arm bowler died in a motor accident at the raw age of 22 in March 2007. During his brief international, he showed glimpses of promise. He averaged under 30 with the ball over 25 ODIs. His economy was just a little over four. Another cricketer who could have done a lot more.
--By A Cricket Analyst