India pulled off a morale-boosting victory by 4 wickets against hosts Australia at the Adelaide Oval. Skipper MS Dhoni provided his magical touches to finish off the match in style for India as the visitors chased down a stiff target of 270 with two balls to spare. (Related Article : Forrest, Hussey carry hosts to 269 for 8)
For a change, India got off to a good start from its openers Virender Sehwag and Gautam Gambhir who put up 50 for no loss on the board. In the 10th over, Australia got their much needed breakthrough when Clint McKay struck with his very first ball with Virender Sehwag (20) getting caught at point. Sehwag looking to play a flick on the backfoot got a leading edge.
India got another solid partnership through when Virat Kohli joined Gambhir until the 19th over when the former had a rush of blood. Coming down the track for a big hit, Virat Kohli (18) smashed Clint McKay into the hands of deep extra covers to throw his wicket away at 90 for 2. The visitors were fortunate to get another sizeable partnership, this time between Rohit Sharma and Gambhir.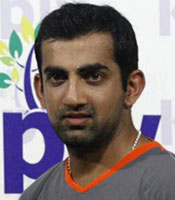 Rohit Sharma was in blistering touch when he pulled a short and rising delivery from the tall Mitchell Starc for a flat six over backward squareleg. But he too threw his wicket after getting a nice start to his innings when he attempted a needless big hit. Rohit Sharma (33 from 41 balls with a four and a six) tried to loft Ryan Harris straight down the ground but could only miscue it to deep mid off in the 33rd over
There was a crucial blow in the 35th over when Gautam Gambhir easing towards a 10th ODI hundred was wrongly adjudged lbw to Clint McKay to a delivery that had marginally pitched outside leg. Gambhir fell for a fluent 92 from 111 balls with 7 fours before he paid price for playing right across the line.
India was under a bit of pressure at 178 for 4 when Gambhir got out that too just ahead of the batting powerplay. With two new batsmen in MS Dhoni and Suresh Raina, India couldn't exploit the batting powerplay but atleast they didn't lose their wickets to keep India in the hunt. Suresh Raina raised the tempo once the slog overs started when he hoicked Xavier Doherty for a flat six over wide mid wicket. In the 47th over, Raina departed when he jumped down the track too close to the pitch of a Doherty delivery to york himself and get bowled. Raina did a fabulous job though scoring 38 from 32 balls with 3 fours and a six in a stand of 61 runs with his Skipper.
The visitors got the equation down to 13 from 8 balls during the penultimate over. And the twist to the match came when Ravindra Jadeja (12) choosing the longer part of the boundary at wide long on got caught by Ponting when he tried to slog sweep Doherty for a six. At this stage, the match tilted in Australia's favour as MS Dhoni was struggling to find the boundaries and at the same time playing out dot balls.
In the final over, India needed 13 to win from Clint McKay. Unfortunately for India, MS Dhoni could get to strike only in the third ball with still 12 to win from four balls. Gathering all the power he was left with in the body, MS Dhoni swung at a pitched up delivery from McKay and sent it miles over long on for a six to reduce the equation to 6 from 3 balls. The next ball, Dhoni heaved a beamer to deep squareleg and got caught but his team instead collected three more runs because of that being a noball. The next delivery, MS Dhoni pulled a slower one to the vacant deep backward squareleg region and collected three runs to finish the match with two balls to spare. Dhoni remained unbeaten on 44 from 58 balls with just the one six that came at the right time to take India towards the victory! For the hosts, Clint McKay bowled well for his 3 for 53 in 9.4 overs though he was expensive towards the end.
Gautam Gambhir for his lovely knock got the Man of the Match award. The next match of the CB Series is between India and Sri Lanka at this same ground on Tuesday.
(Related Article : Forrest, Hussey carry hosts to 269 for 8)