Spin trio strangles Bangladesh to help Pakistan win by 2 runs
Pakistan defeated Bangladesh by a narrow margin of 2 runs to clinch the Micromax Asia Cup 2012! This is the second time that Pakistan have won the Asia Cup and they had to work really hard to beat the Tigers today in what was a see-saw contest. Bangladesh should have won the match easily as the target was only 237 but a couple of slow innings really made it tough for them!
It was a very slow start for Bangladesh as they began their chase of 237. Although Tamim Iqbal looked in fine touch, his partner Nazimuddin was playing the perfect knock to bring Pakistan back in the game. Nazimuddin consumed as many as 52 balls just to score his 16 before he finally departed in the 17th over attempting a big hit off Shahid Afridi. Bangladesh at this stage was getting its runs from only Tamim Iqbal who went onto score his 4th consecutive fifty of the tournament.
Pakistan clawed its way back into the game strongly by getting rid of Jahurul Islam (0, caught at slip edging a Saeed Ajmal doosra) and also the well set Tamim Iqbal to reduce the Tigers to 81 for 3 in 23.1 overs. Tamim Iqbal fell for 60 (from 68 balls with 8 fours) when he was brilliantly caught by a forward diving Younis Khan at extra covers in a rash shot off the backfoot to Umar Gul.
The hosts managed to get a steady partnership going between Shakib Al Hasan and Nasir Hossain. It was a struggle for Nasir Hossain but Shakib Al Hasan looked alright to take the fight forward. The required run rate was steadily increasing to make life very tough for Bangladesh. Pakistan broke the 4th wicket stand in the 43rd over when Nasir Hossain (28 from 63 balls) tamely top edged a pull off Umar Gul towards mid wicket with Bangladesh at 170 for 4. The match was as good as over when the fighting Shakib Al Hasan (68 from 72 balls with 7 fours and a six) perished in the 44th over when he was bowled round his legs in an attempted paddle scoop off Aizaz Cheema. In the 46th over, Skipper Mushfiqur Rahim too got out trying to hoick Cheema for a big one.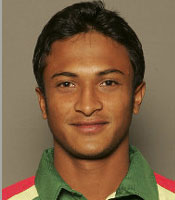 Just when Bangladesh seemed to be out of the match, came a crucial cameo of 18 from 9 balls (with 2 fours) from Mashrafe Mortaza which brought them back in the game. However, Mortaza got out in the 48th over paddling Saeed Ajmal into the hands of short fine leg. That left Mahmudullah all alone with the tail. Towards the end, Bangladesh needed 9 runs to win from the final over and eventually the equation came down to 4 runs from 2 balls. Abdur Razzak messed up Bangladesh's chances by getting bowled round his legs attempting an over ambitious paddle scoop off Cheema. The last ball needed 4 runs to win but the striker was no.10 Shahadat Hossain who could only dig out a yorker. Mahmudullah was left stranded on 17* (from 16 balls with a four) at the non-striker's end as Bangladesh finished second at 234 for 8.
The Pakistani victory was scripted by its spin trio of Mohammad Hafeez (10-0-30-0), Saeed Ajmal (10-2-40-2) and Shahid Afridi (10-1-28-1). Aizaz Cheema bowled poorly for most part of the game but when it mattered, he held his nerve to bowl Pakistan to a 2-run win with his 3 for 46 in 7 overs.
The Man of the Match award surprisingly went to Shahid Afridi who along with his tight bowling had chipped in with an important 32 in the first half. Shakib Al Hasan for his consistent all-round show was named as the Man of the Series.
Bangladesh restrict Pakistan to 235 for 9
Bangladesh would fancy their chances of winning the Asia Cup 2012 after restricting Pakistan to just 236 for 9. The hosts would feel slightly uncomfortable that they gave away too many runs in the end to give Pakistan more than an opportunity to win the match. At one stage, Pakistan was in a desperate situation at 133 for 6!
It was a great start for the Tigers as they found their first wicket in the 5th over when the left-handed Nasir Jamshed (9) shimmied down the track and drove a Mashrafe Mortaza slower one into the hands of covers. An over later, Nazmul Hossain struck the pad of Younus Khan (1) with an inswinger to reduce Pakistan to 19 for 2. Although the going was slow, Pakistan seemed to be rebuilding its innings through Mohammad Hafeez and Skipper Misbah-ul-haq. However, in the 15th, a mix up in the running resulted in Misbah-ul-Haq (13) run out by a direct hit from Nasir Hossain from point to the bowling end to have Pakistan at 55 for 3.
Pakistan went nowhere after that run out and in the 22nd over, the set Mohammad Hafeez played a rash flick shot off Abdur Razzak which was caught by a diving Nazmul at mid on. The score was 70 for 4 when Hammad Azam joined Umar Akmal. The youngsters added 59 runs for the 5th wicket before Hammad Azam (30 from 37 balls with 3 fours and a six) in a predetermined slog sweep was caught and bowled by Shakib Al Hasan off a top edge. Pak were given a massive blow when Umar Akmal (30 from 45 balls with a six) was wrongly given caught behind in an attempted leg glance off Mahmudullah to reduce the score to 133 for 6.
There was a nice recovery from Pakistan thanks to Shahid Afridi's positive strikes. Afridi (32 from 22 balls with 4 fours and a six) got out at the wrong time though in the 42nd over when he tried to heave a full toss from Shakib Al Hasan but only to get caught by a forward diving Nasir Hossain at long off. Pakistan from a position of 178 for 7 at this stage did decently well to finish at 236 for 9. Wicket Keeper Sarfraz Ahmed remained unbeaten with a crucial 46 (from 52 balls) to help Pakistan to reach the modest total. The best bowlers for Bangladesh were Abdur Razzak with 10-3-26-2 and Shakib Al Hasan with 10-39-2.
Toss and Teams of Bangladesh Vs Pakistan, Final at Mirpur, Asia Cup 2012
Bangladesh have won the crucial toss and once again have their wish of batting under lights get granted. The hosts have put Pakistan to bat first in the Micromax Asia Cup 2012 Final.
The hosts have gone in with an unchanged side that defeated Sri Lanka day before yesterday. Pakistan have brought back their Specialist Wicket Keeper Sarfraz Ahmed in the place of Wahab Riaz.
The pitch is expected to be tailor-made for the batsmen. It's the same pitch that was used in the India-Pakistan match.
Bangladesh: Tamim Iqbal, Nazimuddin, Jahurul Islam, Mushfiqur Rahim (Captain & Wicket Keeper), Shakib Al Hasan, Mahmudullah, Nasir Hossain, Mashrafe Mortaza, Abdur Razzak, Shahadat Hossain, Nazmul Hossain
Pakistan: Mohammad Hafeez, Nasir Jamshed, Younis Khan, Misbah-ul-Haq (Captain), Umar Akmal, Hammad Azam, Shahid Afridi, Sarfraz Ahmed (Wicket Keeper), Umar Gul, Saeed Ajmal, Aizaz Cheema