Sri Lanka Skipper Mahela Jayawardene as expected was slapped with a fine by the ICC Match Referee Chris Broad because of his ugly spat with the on-field Umpires yesterday during the Second Final of the CB Series at the Adelaide Oval.

Jayawardene was fined 10% of his match fees after pleading guilty to a Level 1 offence. According to an ICC Media release, Chris Broad has stated that "The actions of Mahela Jayawardene were unacceptable as the ICC code clearly states that whatever may be the situation, you have to always respect and accept an umpire's decision. It is understandable that Mahela Jayawardene felt disappointed after Farveez Maharoof's delivery, which had been dispatched for a boundary, was also declared as a no-ball for a full toss above waist height."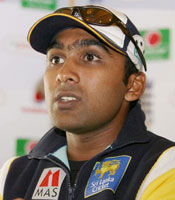 Broad also said "but as one of the senior most players in world cricket today and also as the captain of his side, Mr Jayawardene must maintain a certain level of self-control and clearly his actions went beyond what would be deemed acceptable. That said, Mr Jayawardene pleaded guilty to the offence and apologised for his actions."

Mahela Jayawardene's offence yesterday was under 'arguing or entering into a prolonged discussion with the Umpire about his decision' according to the ICC Code of Conduct for players. While the Umpire Bruce Ozenford with the assistance of squareleg Umpire Asad Rauf was perfectly right in calling the Farveez Maharoof beamer as a noball, Mahela Jayawardene lost his cool as the Umpire made a delayed call as he was more engrossed in correcting a boundary decision. Jayawardene by then was too frustrated at his own team's fielding and especially with Australia seeming to run away with a big total because of the David Warner-Michael Clarke partnership. The Sri Lankan Captain was heard via stump mic saying that "it's not fair" while pointing fingers at the Umpires.