To the surprise of many, only one Morkel took the field in the virtual semi-final clash between Delhi Daredevils and Chennai Super Kings. And the bigger shock was that it wasn't Morne. The purple cap holder has been Delhi's best bowler on show throughout out tournament, but was left out for reasons best known to the Delhi management. The result – Delhi's weakened bowling attack was carted for 222 runs in 20 overs, with Varun Aaron being slammed for 63 and Morkel's replacement, the unknown Sunny Gupta, leaking 47 runs in his three overs.
There is no guarantee that Delhi would have won had Morkel been part of the eleven, but there are no two opinions about it that they would have been in with a better chance. Yes, Delhi had to make amends for playing too many fast bowlers on a turning track against Kolkata Knight Riders. Still, leaving out Morkel made least sense. Keeping out Andre Russell would have been an equally tough decision, but why would a team keep out its best bowler on a day when they need him most? This is a question that will bafflethe Daredevil supporter.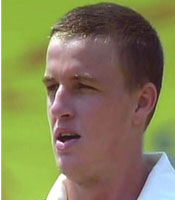 Apart from their team selection, Delhi's whole approach to the game also seemed lethargic. Once Murali Vijay took on the bowlers, they had no weapon to use as a fight back. The shoulders dropped rather quickly, and some very substandard stuff was dished out. Full tosses and half-baked deliveries seemed the order of the day for Delhi. Sunny Gupta looked completely bewildered at the onslaught while Varun Aaron was atrocious with his wayward bowling. Such were Delhi's struggles that Sehwag himself had to roll his hand over and was taken for as many as 21 runs. Only Umesh Yadav found the right length to bowl, but a one-man show wasn't good enough.
Delhi's troubles were compounded by their poor fielding efforts, with even the reliable Warner dropping a catch. There weren't any spectacular stops either as everything went wrong for Delhi in the field. Credit to Chennai Super Kings for exploiting Delhi's weaknesses to the max. Murali Vijay's knock was amazing, and we may see few better hundreds in the T20 format. Once they got a massive total on the board, Chennai's attack became even more potent. Their fielding too was a marked improvement on Delhi's effort. In the end, Chennai were deserved winners, but one is forced to wonder whether Delhi kicked themselves in the foot.
- By A Cricket Analyst