Match Report by Garfield Robinson
Australia achieved victory by 75 runs to end the series 2-0 just before lunch on today's final day of the Dominica test. Michael Clarke took 5 wickets for 86, his second five-wicket haul in tests, to dismiss the West Indies for 294. The last pair of Sammy and hometown favorite, Shillingford, stirred up the crowd with a rollicking partnership that was worth 49, but with so much still to do they were simply spitting in the wind. The innings concluded when Sammy was last out for 61, made from just 51 balls. Shillingford was left unbeaten on 31.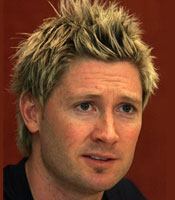 The fact that they were just 75 runs away at the end indicates that with a little more application from the earlier batsmen victory might have been possible. It also confirmed what many would have been thinking even as it was happening: that Matthew Wade's stunning innings, and the runs he scored with the tail on the second day, served to take the game away from the West Indies. It could indeed be argued that the main difference between the sides amounted to the runs that the visitor's lower order were able to contribute to their cause--especially in Barbados and Dominica, the two games that Australia won. The West Indies coaches have much work to do, not only to get more from their tail, but also to prevent the opposition's tail from wagging too much.
Baugh,on nought overnight and Deonarineon 11, started the morning session with the West Indies having the uphill task of scoring another 197 runs for victory. They began cautiously, the only sign of violence being Baugh cutting anything short. As has happened throughout this test, the ball spun, and Lyon especially, turned quite a few past Deonarine'sbat.
The breakthrough came in the seventh over of the morning. Deonarine had tapped a Clarke delivery back to him on the bounce. Or so everyone thought. Clarke's almost politequestion to the umpire indicated that he wasn't sure and Deonarine seemed quite unconcerned when the third umpire's intervention was requested. After deliberating for quite while a verdict of out was returned and so, sadly, he had to trudge off to the pavilion. Having seen the replays from different angles, however, it is unlikely the Australians would have been too disappointed had the decision gone the other way.
Sammy then arrived at the crease and the fun began. He waited all of four balls before he was down the pitch hitting Lyon back over his head for 6. Two balls later he just managed to clear mid-off when he failed to connect as he would have liked and got 2. One over from Clarke went for 17 including two fours and one six. A full toss, again from Clarke a few overs later, was nonchalantly deposited over square leg for another six.
Prior to that Baugh had twice tried to slog Lyon over midwicket. The first time he got one run, on the second occasion, however, Ponting managed to catch him brilliantly over his head and he was needlessly out for 12. Roach, normally in at eleven was promoted to nine in order, but faced only eight deliveries before he edged Lyon for Clarke to catch magnificently, diving to his left at slip. Rampaul lasted ten balls; hit Clarke for 4, then for 6 two balls later, and then was caught by Warner at mid-on off the following delivery.
Shillingford then joined Sammy and proceeded to thoroughly entertain his doting home crowd. He charged down the wicket second ball over mid-off for four, a shot to which he would return on a number of occasions. Next over from Lyon he took him for three consecutive boundaries, all of them well struck. When the new ball was taken he pulled Harris for four in amanner one would not expect of a number eleven batsman. The show then came to an end when Lyon returned to the attack and soon had Sammy attempting a sweep shot which he top-edged and was caught at fine leg.
Matthew Wade was named man-of-the match for his first innings hundred, while Shivnarine Chanderpaul was player of the series.